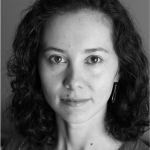 Mariana
Hassegawa
Researcher
Recent journal articles
EFI publications

Dr. Mariana Hassegawa is a Researcher in the Bioeconomy Programme. She holds a BA in Forestry, a MSc in Wood Science, both from the Federal University of Parana (Brazil), and a PhD in Wood Science from Laval University (Canada). She has worked on a several research projects that linked wood quality to variations in climate conditions and forest site characteristics. Her projects aimed to add value to the forest resources and help improve the resilience of the forest industry by furthering the development of the bioeconomy. Other experience in research includes forest resource assessments, silviculture, and climate change impacts and mitigation.
Learn more about Mariana here.
Key topics: bio-based products; forest resources; wood quality; product value recovery; silviculture
Email
mariana.hassegawa @ efi.int