Consortium announced for forest monitoring call
Latest news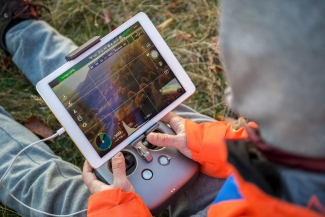 We are pleased to announce that the EFINET - The European Forest Information Network consortium has been selected to address the EFI Network Fund call on forest monitoring.
The consortium partners will work on a study which synthesises existing scientific research and develops a conceptual framework for a harmonised European forest monitoring system. The final results of the work are expected to be available in December 2022.
In Europe, there is a wide array of forest information sources (from local to continental level) but these are scattered and mostly rely on diverse data sets that are not easy to compare, which limits the possibilities for an informed policy development process and dialogue.
Important efforts have already been made by European countries to harmonize forest inventory data, by the European Environment Agency to implement several European services such as FISE (the Forest Information System for Europe) and the COPERNICUS Land Services, and by the Joint Research Centre of the European Commission.
Remote sensing technologies and advanced methods for multi-source integration of spatial information nowadays offer new possibilities for addressing the lack of European-wide harmonized and robust information on forest resources and their conditions.
Consortium coordinator Professor Gherardo Chirici, from the University of Florence Department of Agriculture, Food, Environment and Forestry, and Director of the geoLAB – Laboratory of Forest Geomatics, said: "It is time now to all work together - scientists and researchers from different European institutions - to develop a consistent and comprehensive pan-European forest monitoring service to make effective use of all available forest information. This is essential because forests in Europe provide a range of ecosystem services, playing a vital role for citizens and the environment."
The aim of EFINET is to fill current information gaps by establishing a network that can facilitate and increase the openness of available and more real-time forest information in Europe, analysing the new technologies and data available, and identifying opportunities for making effective use of all available sources of information. Members of the core group of EFINET are: Rubén Valbuena at Bangor University (UK), Gert-Jan Nabuurs at Wageningen Research (Netherlands), Cornelius Senf and Rupert Seidl at the Technical University of Munich (TUM) (Germany), Thomas Pugh at Lund University (Sweden), Erik Næsset and Terje Gobakken at Norwegian University of Life Sciences (NMBU) (Norway).
Further information: Robert Mavsar (robert.mavsar(at)efi.int)
To read the full call text and access the other related documents, see here.
Photo: ©bymandesigns, Adobe Stock
Show