FOSPREF-Wind end of project webinar
Latest news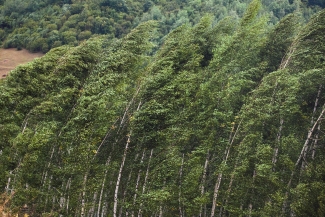 Please join the FOSPREF-Wind members for the end-of-project webinar on the 23rd of February, at 10:00am UK time (11:00am CET, 12:00 (noon) Latvian time).
During the webinar, panel members will
introduce the FOSPREF-Wind project,
describe the ForestGALES R package fgr, its development and applications,
describe the development and applications of the 3PG R package, including projects that stemmed from FOSPREF-Wind, and
broadcast the FOSPREF-Wind video on damaging winds and climate change impacts to European forests. After the presentation there will be a 15- 20 minutes Q+A interactive session with the audience.
The webinar is aimed at a broad audience, from forestry professionals (including researchers, practitioners, policy makers, planners, private and public forest managers, and owners) to the interested public. It will last approximately 1 hour and 30 minutes. During the event, a panel of project members will share the findings and outputs produced during the project. The event includes the opportunity for an interactive Q+A session with the attendees.
FOSPREF-Wind is a European collaborative project led by Forest Research (UK) in consortium with the University of Lisbon - Instituto Superior de Agronomia (Portugal); NEIKER - Basque Institute for Agrarian Research and Development (Spain); the Swedish University of Agricultural Sciences (Sweden); IBL - Polish Forest Research Institute (Poland); and SILAVA - Latvian Forest Research Institute (Latvia).
Find out more and register here.
Image: David Bodescu
Show