Regenerative cotton agroforestry experiment in Italy
Latest news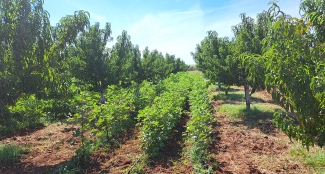 The experimental plots for regenerative cotton agroforestry, and sole cotton cropping plots at Apulia, Italy were established at the end of May 2023, and have shown outstanding growth performance after 14 weeks of sowing.
In May 2023, the regenerative cotton agroforestry experimental plot at Apulia was established. First of its kind in Italy, this one-hectare plot is a showcase to demonstrate the practice of landscape diversity, water conservation and soil fertility enhancement through implementing science based sustainable cotton production in the region.

After 14 weeks of sowing, the cotton plants in agroforestry and sole cropping have produced 60–70 percent of flowers and cotton bolls. The first-round cotton yield is expected to be harvested at the end of October 2023. Also, the scientific assessment on the impact of regenerative cotton agroforestry on soil health in reference to sole cotton cropping will be assessed based on sample permanent plots. Over the coming years, the project will be scaled up to three hectares with the additional agroforestry design and integration of more local fruit and other tree species.
The Apulia regenerative cotton project is supported by the Armani Group in collaboration with the Sustainable Markets Initiative's Fashion Task Force and the Circular Bioeconomy Alliance. The project is coordinated by EFI together with Council for Agricultural Research and Economics of Italy (CREA) and PRETATERRA.

Read more about the project at the Circular Bioeconomy Alliance site.
Photos: Mesele Negash Tesemma, EFI
Show