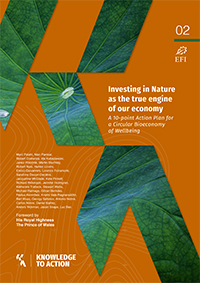 The 10-Point Action Plan to catalyse a Circular Bioeconomy of Wellbeing is a call for collective and integrated action to global leaders, investors, companies, scientists, governments, nongovernmental and intergovernmental organisations, funding agencies and society at large to put the world on a sustainable path.
>> Download the Action Plan as a pdf (48MB)
More information
Recommended citation:
Palahí, M., Pantsar, M., Costanza, R., Kubiszewski, I., Potočnik, J., Stuchtey, M., Nasi, R., Lovins, H., Giovannini, E., Fioramonti, L., Dixson-Declève, S., McGlade, J., Pickett, K., Wilkinson, R., Holmgren, J., Trebeck, K., Wallis, S., Ramage, M., Berndes, G., Akinnifesi, F.K., Ragnarsdóttir, K.V., Muys, B., Safonov, G., Nobre, A.D., Nobre, C., Ibañez, D., Wijkman, A., Snape, J., Bas, L. 2020. Investing in Nature as the true engine of our economy: A 10-point Action Plan for a Circular Bioeconomy of Wellbeing. Knowledge to Action 02, European Forest Institute.
Number of pages: 58
ISBN 978-952-5980-91-2 (printed)
ISBN 978-952-5980-92-9 (online)
DOI: https://doi.org/10.36333/k2a02
Authors
Marc Palahí, European Forest Institute
Mari Pantsar, Sitra, The Finnish Innovation Fund, Helsinki, Finland
Robert Costanza, Crawford School of Public Policy, Australian National University, Canberra, Australia
Ida Kubiszewski, Crawford School of Public Policy, Australian National University, Canberra, Australia
Janez Potočnik, SYSTEMIQ, London, United Kingdom
Martin Stuchtey, SYSTEMIQ, London, United Kingdom
Robert Nasi,CIFOR, Center for International Forestry Research, Bogor, Indonesia
Hunter Lovins, Natural Capitalism Solutions, US
Enrico Giovannini, Italian Alliance for Sustainable development (ASviS), Rome, Italy
Lorenzo Fioramonti, University of Pretoria, South Africa
Sandrine Dixson-Declève,The Club of Rome, Zurich, Switzerland  
Jacqueline McGlade, Global Prosperity, University College London, UK and Strathmore University Business School, Kenya
Kate Pickett, Department of Health Sciences, Faculty of Science, University of York, York, UK
Richard Wilkinson, Department of Health Sciences, Faculty of Science, University of York, York, UK
Jennifer Holmgren, LanzaTech, Chicago, US
Katherine Trebeck,The Wellbeing Economy Alliance, London, UK  
Stewart Wallis, The Wellbeing Economy Alliance, London, UK
Michael Ramage,Centre for Natural Material Innovation, University of Cambridge, Cambridge, UK  
Göran Berndes, Department of Space, Earth and Environment, Chalmers University of Technology, Gothenburg, Sweden
Festus Akinnifesi, FAO, Rome, Italy
Kristín Vala Ragnarsdóttir, Institute of Earth Sciences, University of Iceland, Reykjavík, Iceland
Bart Muys, Division of Forest, Nature and Landscape, KU Leuven, Leuven, Belgium
Georgy Safonov,National Research University Higher School of Economics, Moscow, Russia  
Antonio Nobre, National Institute for Space Research, São Paulo, Brazil
Carlos Nobre,Institute for Advanced Studies, University of São Paulo, Brazil  
Daniel Ibanez,Harvard University, Graduate School of Design, Cambridge, MA, US  
Anders Wijkman, Climate KIC, Brussels, Belgium
Jason Snape,AstraZeneca, Global Sustainability, Macclesfield, UK  
Luc Bas, IUCN Regional Office for Europe, Brussels, Belgium