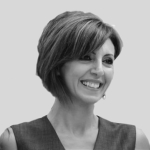 Magda
Bou Dagher Kharrat
Principal Scientist, Mediterranean Forests
Magda Bou Dagher Kharrat is a principal scientist at the Mediterranean Facility of the European Forest Institute. Before joining EFI in 2022, Magda started her career at Saint Joseph University of Beirut. As full professor, she chaired the Life and Earth Science Department and was the director of the Laboratory of Biodiversity and Functional Genomics. She also co-founded and managed an NGO versed in forest ecosystem restoration.
Magda holds a PhD degree in Plant genetics from La Sorbonne University-Paris.
She is a National Geographic explorer since 2019. Her main research interests are in the fields of conservation and valorisation of Mediterranean Natural and cultural heritages and Mediterranean forests resilience.
Key topics: Forest genetics; Biodiversity conservation; Ecosystem restoration; Mediterranean genetic resources; Species distribution - Endemism

ORCID
Email
magda.boudagher@efi.int