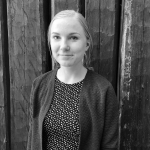 Venla
Wallius
Junior Researcher
Recent journal articles

Venla Wallius is a junior researcher in the Bioeconomy programme. She holds a M.Sc. degree in Economics and Business Administration (Corporate Environmental Management) and a M.Phil. degree in Environmental science and technology from the University of Jyväskylä. Currently, she is doing her postgraduate (PhD) studies, focusing on stakeholder perceptions of wood-based products in bioeconomy transition in her thesis.
Venla is working in the NOMADI project project which seeks green growth for the North Karelian bioeconomy through digital transformation of forest services. Moreover, she is involved in Koli Forum, a discussion platform with themes related to bioeconomy. She is taking care of the practicalities and organization of Koli Forum events together with the rest of the Secretariat and Board. Find out more about Venla here.
Key topics: forest bioeconomy; forest products; bioeconomy markets; consumer research

Email
venla.wallius @ efi.int
Telephone number
+358 10 773 4302