Bioeconomy Investment Summit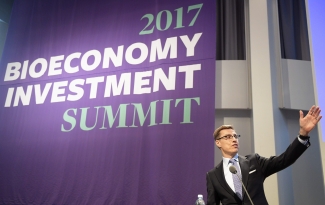 The 2017 Bioeconomy Investment Summit was held in Helsinki on 14 December, gathering together over 400 policymakers, investors, scientists, journalists and industry from 40 countries.

The summit aimed to place sustainability at the heart of the investment agenda, asking what was needed to transform the bioeconomy from niche to norm.

As well as reflecting on the importance of the policy and investment environment, speakers looked at the opportunities and challenges which the bioeconomy provides for smart, sustainable and inclusive business, many describing their organisation's journey in bringing new concepts and bioproducts to action.

What is needed to make the bioeconomy mainstream? Investment to allow upscaling and to drive technologies forward, an ambitious policy framework and awareness-building (including the creation of a compelling human narrative) were some of the main themes.

The event also featured a walking exhibition of innovative, bio-based products from more than a dozen companies, bringing the bioeconomy into everyday life.
Download the short conclusions.

Discover the conversations on Twitter.

The event was livestreamed, and you can watch the recordings here:

Session 1: A new paradigm for a new era
Session 1 panel discussion
Session 2: Investing in the bioeconomy – from niche to norm
Session 3: Bioeconomy in action – smart, sustainable, inclusive and global business
Think big, think progressive, because this is the field of the future", said Alexander Stubb, Vice-President of the European Investment Bank. Photo: Vesa Moilanen/Lehtikuva