Bioregions Facility launch: connecting knowledge for regional action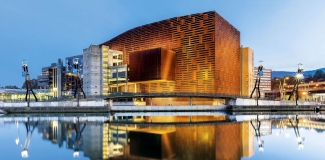 Forward-thinking regions are taking the lead in the development of a sustainable and circular forest-based bioeconomy with the launch of a new European Bioregions Facility.
The Bioregions Facility promotes transregional cooperation on shaping and implementing a sustainable and integrative forest-based circular bioeconomy among dedicated regions. The initiative will facilitate knowledge-sharing and cooperation around the topics of innovation, institutions, infrastructures and investments, through a range of activities supporting networking, access to funding, and policy learning.
The European Forest Institute (EFI) hosts the Bioregions Facility Secretariat and is joined by the Basque Country (Spain), North Karelia (Finland) and North Rhine Westphalia (Germany), who are the founding member regions of the initiative. Following the launch event, which takes place in Bilbao, Spain on 9 March 2020, further regions are encouraged to join.
The launch event will see high-level keynote speakers presenting insights into the circular bioeconomy, as well as investment and innovation opportunities, regional strategies and infrastructures. The meeting provides an exciting platform for exchange between key actors in the international and regional bioeconomy arena, as well as highlighting successful forest-based products and services.
Programme (PDF - EN)
Subscribe to our mailing list to receive updates about the Bioregions Facility.
More information: diana.tuomasjukka (at) efi.int, giuseppe.tripodi (at) efi.int