EFI strengthening links between forest stakeholders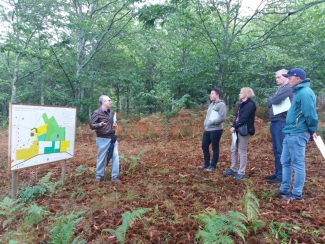 Delegates from Metsäkeskus (Finnish Forest Centre) and Arbonaut have been visiting different forest institutions across Northern Spain. In Catalonia they visited, among others, EFI's Mediterranean Facility, hosted by Inazio Martínez de Arano and Yitagesu Tekle. Their trip ended in Galicia, where Mercedes Rois Díaz hosted them in collaboration with the University of Santiago de Compostela (USC), the Galician Agency of the Forest Industry (XERA), both EFI members, the University of Vigo (UdV) and the Galician Forest Association (AFG).
The field visits included the trials of the INTERREG SUDOE project Open2Preserve in Ancares mountains, using prescribed burning in the management of Natura 2000 shrublands, in combination with horses grazing. The visit extended to the other area of the Natura 2000 'Ancares-Courel', the Courel mountains, which have been declared World GeoPark by UNESCO last April 2019. After discussions in the Scientific Station of the USC, they visited the Mercurín 'souto' (traditional chestnut orchard) to see how those forests are managed and what is their socio-economic impact.
The Galician forest Association (AFG) showed in situ one of the collective private forests with stands of chestnuts, walnuts with cereals and cherry plantations, which serve as educational site about the forest operations and management for forest owners and practitioners. In contrast, the differences in management and productivity in an Eucalyptus nitens stand were observed and discussed.
The exchange of experiences and views with also XERA, UdV, and Aleutos Solutions about the forest industry and deployment of bioeconomy in the region, LIDAR inventories and services provided to forest owners has been very enriching for all participants. The seed for future collaboration.
Photo by Mercedes Rois Díaz