Five priorities for EU-China bioeconomy development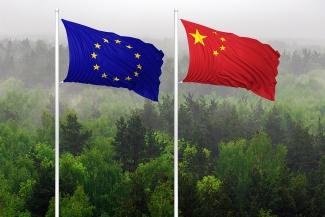 Our ThinkForest webinar on 9 December focused on the potential challenges, possibilities and policy implications for future European-China forest-based bioeconomy development.
ThinkForest President Janez Potočnik reminded the audience that future economic development depends on how we take care of our environment and resources, and that the circular bioeconomy can decouple economic development from resource use and environmental impacts while delivering the SDGs. EU-China relations are of great relevance in that context.
However, to further successful collaboration between the EU and China, there are five priority areas which should be addressed, said Esko Aho, the former Prime Minister of Finland. These include:
More R&D funding to be able to reach its full potential
Skills and talents need to be established by a common knowledge base and education to keep the circular bioeconomy developing, e.g. joint university programmes between EU and China
Innovations and risk investments for circular bioeconomy
Joint efforts in regulations and global standards for circular bioeconomy
Consumer commitment – all new solutions and products need access to markets to become a part of our daily lives.
Professor Maarit Kallio from the Norwegian University of Life Sciences presented the results of a new EFI study, which provides the first systematic assessment of the potential challenges, possibilities for the future and policy implications for Europe-China forest-based bioeconomy development. She pointed out that as biomass resources are limited, China and the EU should cooperate to increase the quantity and quality of the biomass resources and to use the existing resources more smartly.
She also pointed out that China's climate goals and environmental policies provide business opportunities also for EU-based industries. She also emphasised that EU industries need information on China's policies, regulations, wood biomass supply potentials, and there is a need to support for R&D, and bioeconomy commercialization and market access. Also, the China-EU bilateral investment agreement negotiations started already in 2013 to ensure equal rights, obligations and access to respective markets for investors should finally be signed.
During the panel discussion led by Kerry Brown, Director, Lau China Institute, King's College London, panellists tackled the practical aspects of China-Europe bioeconomy cooperation, and looked at what should be done to accelerate progress. The panellists agreed that raising public awareness and education at all levels about the circular bioeconomy is important. We all need to understand how bioeconomy is present in our everyday lives via new products and solutions, which we don't always even realise are based on e.g. wood. While exchange and joint university programmes are needed to ensure R&D, we should not forget about practical skills at businesses, as industries are inevitably also affected by, and motors of, the developing bioeconomy.
More information
The ThinkForest webinar on China-Europe Forest Bioeconomy was held on 9 December.
See programme and speaker bios.
Download the study on China-Europe Forest Bioeconomy: Assessment and Outlook