EFI's Biocities Facility launched
Latest news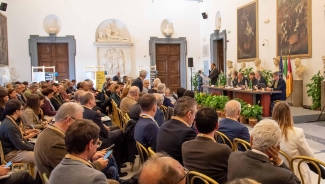 The official launch of EFI's new Biocities Facility took place in Rome on 20 April, as part of the celebrations of EFI's 30th anniversary.
An interdisciplinary audience of 150 people from research, practice and policy gathered on Capitol Hill for an event focusing on Cities in the Age of Forests.
Prof. Marco Marchetti, Chair of the EFI Board thanked key Italian organisations and ministries for the trust they have put in EFI's work. "Today we are placing nature and people at the centre of the urban environment", he said. "We see that there is the possibility of an effective transition to a new vision, using wood and other renewable resources. Biocities is a visionary and multidisciplinary approach."
Speakers at the high-level opening included Luigi D'Eramo, Secretary of State, Agriculture, Food Security and Forestry, who emphasised that the Ministry was extremely pleased to have EFI's new office in Rome, particularly given the recent difficult years in international cooperation due to COVID. The new office is also financially supported by the Italian Ministry of Foreign Affairs.
EFI Director Marc Palahí set the scene in his keynote speech, explaining how Biocities provide us with a new framework and new vision. He called for Biocities to catalyse a new Renaissance which could reconnect humanity with nature and encourage symbiosis between nature and technology. "Cities need to lead the transformation and become the change that we want for our world", he said. "If we want to shape our economy, we need to shape our cities. This requires a holistic approach, to reimagine and transform cities."
As well as a ThinkForest seminar on Forests and the cities of the future, the event explored the work of two scientific consortia which responded to the EFI Network Fund call to create a Biocities Research Agenda and forthcoming book 'Transforming Biocities'. The Head of EFI's Biocities Facility Giuseppe Scarascia-Mugnozza introduced the fundamental framework and principles which sit behind the publication.
Vicente Guallart, one of the editors of the publication described the need to move towards Biocities by designing urban spaces inspired by nature. "Biocities are cities that follow the rules of natural systems, in order to promote life and biodiversity", he said.
An expert panel discussed how the book comes at the right time, when urbanized societies are facing a complex set of challenges and a radical shift is needed. To implement Biocities we will need to plan, regulate and design in a completely different way. The panel emphasised the importance of bringing together different disciplines and multiple perspectives to ensure this, as well as integrating these groups at many different levels. Community engagement should be high on the agenda, with monitoring, measuring and communicating data and information in an open way vital.
Education and knowledge were emphasised by all speakers, as we need to change attitudes and perspectives, not only of citizens but all stakeholders in the process, including policymakers and professionals. The value of sharing experiences, mistakes and lessons learned was also highlighted, along with the need to share positive examples of biocities, as success breeds imitation. Ultimately we should aim that "no city is left behind".
More information
EFI's Biocities Facility aims to create an informed dialogue on how trees, forests and wood can contribute to rethinking our cities, so they can lead the transformation towards a climate-neutral and nature-positive economy. It works across scientific disciplines and actors to connect knowledge to action to transform the way we create and live in cities.
https://efi.int/biocities
The full programme is available here: https://efi.int/events/grand-opening-efis-biocities-facility-cities-age-forests-2023-04-20/programme
More information about our speakers: https://efi.int/events/grand-opening-efis-biocities-facility-cities-age-forests-2023-04-20/speakers
Photo: Alessandro Natalizia
Show