New study shows priorities for biomass usage
Latest news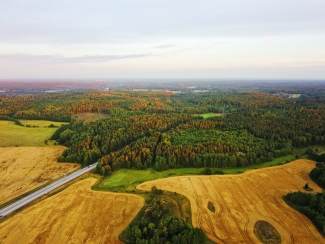 The transition to net-zero emissions could more than double the EU's demand for biomass, far exceeding sustainable supply. According to a new study, an urgent course correction is needed to ensure that most future biomass is reserved for use in high value materials and chemicals. When considering the future use of biomass for energy, emphasis should be given to specialised areas such as industrial heat and aviation, taking into account the transition period needed within the energy sector.
The study is the first to model the EU's 2050 demand for biomass feedstocks from all sectors and to compare this to a realistic biomass supply. Material Economics produced the new analysis in collaboration with the Energy Transitions Commission and the European Forest Institute, funded by Climate-KIC, European Climate Foundation, the Finnish Innovation Fund Sitra and Vinnova. EFI contributed to the study from the viewpoint of EU forest biomass supply.
The study finds that the optimal future for biomass use is highly targeted, prioritising the most valuable uses where the properties of biomass make it the greatest contributor to a net-zero economy; or where other alternatives are likely to remain too expensive.
"Biomass is scarce and valuable, and it cannot meet all needs. Expectations for future use add up to 50–100% more than what we should count on being available, so there is massive value at stake in getting our priorities right for the limited feedstock we have. As our study shows, tomorrow's high-value use of biomass will look very different from yesterday's expectations, and both business leaders and policymakers will need to adjust", says Per Klevnäs of Material Economics.
Improving technologies create a wide set of alternatives to biomass use
While biomass will continue to play a role in the EU's transition to net-zero, it will become increasingly important to focus on products such as in furniture, construction, wood fibre, textiles and chemicals. An important role for bioenergy is likely to remain in longer term in a number of specialised areas such as industrial heat, waste and carbon management services, and – potentially – e.g. for fuels used in aviation.
More information
Material Economics (2021). EU Biomass Use In A Net-Zero Economy - A Course Correction for EU Biomass
Press release on the Sitra website: EU needs to prioritise domestic biomass for materials and chemicals – bioenergy reserved for highly specialized niches
Contact: Pekka Leskinen (firstname.lastname@efi.int)
Photo by Max Hermansson on Unsplash
Show