ThinkForest discussions explore Closer-to-Nature Forest Management
Latest news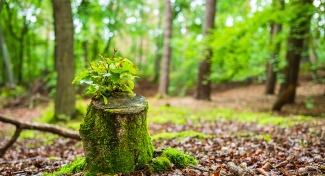 European forests are under increasing strain, thanks to current climate and biodiversity crises and increased human activities and pressures. Our recent ThinkForest event brought together scientists and policymakers to explore how the concept of Closer-to-Nature Forest Management could help to integrate different management objectives, including biodiversity and adaptation.
Prof. Jørgen Bo Larsen presented the results of EFI's forthcoming Closer-to-Nature Forest Management study. The report builds on the latest scientific evidence to support defining the concept of Closer-to-Nature Forest Management, based on a set of seven guiding principles.
"If we cannot develop forest for future climate and other challenges, we will not only lose biodiversity, but also all other functions forests should deliver for our children and grandchildren", he said. Different regions need different management approaches, but we can use adaptive management as a way to tackle uncertainties. However, this is not a quick-fix – long-term measures (including policy measures to support forest owners in the transformation), are needed.
A lively panel discussion highlighted some of the opportunities – and barriers – for implementing Closer-to-Nature Forest Management in Europe. Claudia Olazabal outlined how the European Commission has started to develop guidelines on Closer-to-Nature Forest Management. She emphasised the need for inclusive governance, as forests are a societal discussion.
Panel discussions also focused on how Closer-to-Nature Forest Management needs to be a system in which all forest owners can engage, where forest management develops biodiversity and resilience but is also profitable, in terms of wood extraction and payments for ecosystem services. Fragmentation of forest ownership is a challenge when working at a landscape level, and support for forest owners is crucial. Forest advisory services, networking, cooperation and peer-to-peer exchange on best practices are needed, as Closer-to-Nature Forest Management is a knowledge intensive approach. The discussions emphasized that we need to motivate forest owners rather than be restrictive. Legislation and policies need to be flexible to allow many approaches – for example payments for ecosystem services could come from both public and private funding.
ThinkForest President Janez Potocnik concluded that the implementation of Closer-to-Nature Forest Management needs collective learning, with close cooperation between policymakers, scientists and practitioners. "We need to build resilient economies and societies. Review existing subsidy regimes. Convince private owners of the approach. Develop and use new technologies and tools for this more diverse and structure-rich forest".
More information
Closer-to-Nature Forest Management was held on 6 April 2022.
Rewatch the conversation on our YouTube channel.
Show