Bioeconomy as a long-term model for fighting forest fires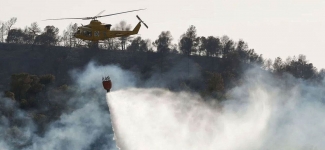 Hundreds of firefighters have been fighting forest fires in southern Catalonia, Spain, when temperatures rose to 40 degrees Celsius and higher across Europe since summer began. Authorities and experts agree that these fires are the worst in the region in 20 years and can spread quickly. During this year's summer season, much of Europe will experience extreme heat and countries such as Germany, France, Portugal and Poland recorded the highest temperatures in their history last June.
In the case of Southern Europe, the Mediterranean basin is a global wildfire hotspot and the threat of wildfires to forests and society is expected to increase with climate change. The European Forest Institute (EFI) looks at the key factors of increased forest fire risk, particularly in the Mediterranean region but also across Europe, and advocates for a new vision based on shifting the focus from reactive fire suppression to long-term proactive fire prevention and forest management at the landscape scale.
Researchers at EFI envision bioeconomy as a new economic opportunity to develop forest value chains around bioenergy, wood engineered products for sustainable construction, biomaterials based on cork and resin, or edible forest products. To move towards this proposed model, it is necessary to provide the necessary incentives and investments for forest owners to cope with the risk of catastrophic fires while managing forest landscapes and ensuring the provision of key ecosystem services.
In this video we explain you about EFI's approach to address this phenomenon in a very simple way:
Additional information: