Connecting science, sound and storytelling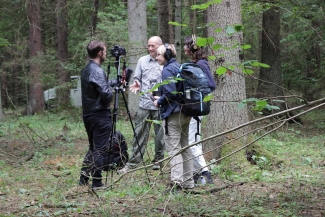 The Sound Reporting Co-Lab media bootcamp took place in the Bialowieza forest, Poland in July, focusing on bark beetles and their impacts on ecological, social and industrial systems.
The Co-Lab is a 6-month media support programme from EFI's Lookout Station. It offers scientific and technical support for journalists from Europe and the US to explore the power of sound in nature, and develop a science-based bioacoustic story around the topic of climate change impacts on forests, biodiversity and local communities.
A group of journalists from 6 media/teams heard experts from EFI, the Polish Forest Research Institute (an EFI member organisation) and the University of Warsaw share their scientific insights into the complex and disputed situation in Bialowieza. This holistic view on the issue was complemented by practical sound training from a team of award-winning trainers from Cornell University and National Public Radio (US) to connect science, sound and storytelling.
As well as hearing from scientists and experts in a seminar room, the journalists also had a chance to visit three different forests to make field recordings: old forest unaffected by bark beetles; forest that is currently under attack; and forest that was attacked four years ago.
The Sound Reporting Co-Lab will provide mentorship and expert support for the journalists for the next four months as they develop their stories. This includes a series of expert meetings, the first of which will look at the broader picture in Europe and North America.
Follow the journalists' progress on the Lookout Station website
Find out more about bark beetles in EFI's publication "Living with bark beetles: impacts, outlook and management options".
The Sound Reporting Co-Lab bootcamp was organised with support from EFI's Multi-Donor Trust Fund for policy support, EUFORGEN, SURE project, Polish Forest Research Institute (IBL) and Hindenburg Systems.
Photos: E.Hermanowicz/EUFORGEN