European Network of Forest Extension Organisations launched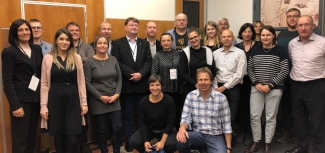 The European Network of Forest Extension Organisations (FOREXT) has now been officially launched as the Memorandum of Understanding was signed in September 2019. FOREXT aims to support its member organisations through international collaboration in building new capacity and to develop their support and advice skills, tools and services to private forest owners to a new level. The network has its Secretariat at EFI. There are currently 12 members, four of which are also EFI's member organisations.
The FOREXT partners met in Helsinki, Finland in early October to discuss future activities. The meeting also included a joint session with the DataBio-project, which aims to show the benefits of Big Data technologies in the raw material production from agriculture, forestry and fishery/aquaculture for the bioeconomy industry to produce food, energy and biomaterials responsibly and sustainably.
Current members of the FOREXT network:
Finnish Forest Centre, Finland
Estonian Private Forest Centre, Estonia
National Centre of Private Forestry, France
Teagasc, Ireland
Latvian Rural Advisory and Training centre – Forest Advisory Services centre, Latvia
Skogkurs - Forestry Extension Institute, Norway
National Forest Center, Slovakia
Swedish Forest Agency, Sweden
Forestry Commission, UK
The Union of Southern European Forest Owners, USSE, Spain
Mas Abogados, Spain
Institute Europeen de la Foret Cultivee