NewGo!: scientific evidence of FLEGT VPA's impacts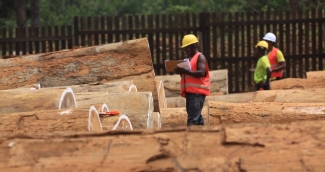 In recent decades, large areas of forest have been deforested and degraded worldwide, which has been mostly attributed to illegal logging. To help address this complex problem, in 2003, the European Union adopted the Forest Law Enforcement, Governance and Trade (FLEGT) Action Plan to combat illegal logging and trade in wood products. Currently, FLEGT works in more than a dozen countries through Voluntary Partnership Agreements (VPAs), however, there is no study that comprehensively and systematically collects and analyses the impacts of these processes.
In light of this, the European Forest Institute's project NewGo! will systematically review the knowledge on FLEGT-VPA impacts from the scientific literature as well as key impact areas, and make the review publicly available for researchers and policy practitioners.
Such a review will help understand what FLEGT regime was able to achieve in specific contexts and in which areas knowledge is lacking to inform future research and policy action. Furthermore, this review will reveal the specific conditions under which certain impacts were achieved in country contexts.
The expected outputs from this review are:
Publicly searchable literature database, which will contain the main scientific findings reporting on impacts to date organized into thematic categories
Paper on FLEGT-VPA impacts and future research needs. It will highlight the areas that are either unknown or based on limited data.
Policy Brief highlighting the most relevant and timely key findings for policymakers in the EU and its Member States.
Photo: EU FLEGT and REDD facilities