Amplifying the role of media for a sustainable future
Latest news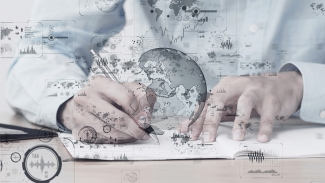 A new online edition of the EFI Lookout Station's Solution Hack for Journalists begins on 4 March, bringing together 16 journalists from all around the world.
The programme takes a unique approach where journalists are invited to discuss, engage and collaborate with experts and other journalists to identify the issues with today's economic model and possible solution areas. The ultimate goal over the three online workshops is to explore the role journalists and media can play in making positive impacts on our planet.
Mentors include investigative reporter Alexandra Heal, BBC journalist Richard Fisher, El Tímpano founder Madeleine Bair, and Science Africa founder Otula Owuor. The programme will also see contributions by experts from EFI and Sitra, the Finnish Innovation Fund, as well as ThinkForest president Janez Potočnik.
The programme is the second Solution Hack collaboration between Sitra and EFI, following on from the Solution Hack for Journalists organised in Helsinki in 2019 which explored the Finnish model of sustainability, and also offered training on the Disruptive Design Method (DDM).
The training is part of a wider collaboration between Sitra and EFI, which also includes an online digital forum (in partnership also with CIFOR, ICRAF and the Circular Bioeconomy Alliance) on 19 March. The forum, Nature at the heart of a global circular bioeconomy, brings together investors, scientists, forestry, agroforestry and landscape experts, practitioners, community and business leaders and policy makers to explore what it will take to shift to a circular bioeconomic model that supports people and the planet, putting nature at the heart of how we operate.
More information
https://thelookoutstation.com/solution-hack-journalists-online-edition
Image by ©metamorworks - stock.adobe.com
Show