Choose wood-based products for the climate, says new report
Latest news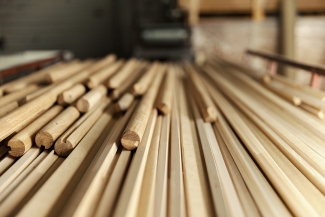 Switching from fossil-based products to renewable wood-based products can help combat climate change and achieve Sustainable Development Goals, according to a new FAO report, launched on the occasion of the International Day of Forests (IDF 2022).

The publication, prepared in collaboration with the European Forest Institute (EFI), Forest Products in the global bioeconomy: Enabling substitution by wood-based products and contributing to the Sustainable Development Goals, brings together the most up-to-date knowledge on the role of forest products in the global bioeconomy and provides recommendations on how to increase their contribution to sustainable development.

Under existing trends, the global extraction of natural resources is estimated to more than double by 2050 and which is associated with a strong increase in greenhouse gas emissions. "Using wood as raw material for making products can contribute to climate change mitigation" says Dr. Hans Verkerk who coordinated the report. "This is because wood-based products store carbon and their use can help to avoid greenhouse gas emissions that occur over the lifetime of a product, as compared to other materials such as concrete, steel, plastics and synthetic fibres" he explains.

Emerging technologies

The report outlines emerging technologies that open up the range of uses for forest products while decreasing material, carbon and water footprints and reducing pollution and waste generation.

Among recent innovations showcased in the report are cross-laminated timber for construction, wood foam for packaging, lyocell or other wood-based textile fibres that can be made without harsh chemicals, and a way to make transparent wood that could be used in construction, solar panels and electronics.

The publication also warns of potential risks that could come with greater production and consumption of forest products, such as increased pressure on forests and forest-dependent people and unsustainable practices resulting in forest degradation and biodiversity loss.

It stresses the need for sustainable, climate-smart forest management that supports biodiversity and other ecosystems to underpin an effective bioeconomy, and provides recommendations for different sectors to achieve this.

Full reference: Verkerk, P.J., Hassegawa, M., Van Brusselen, J., Cramm, M., Chen, X., Imparato Maximo, Y., Koç, M., Lovrić, M., Tekle Tegegne, Y. 2022. Forest Products in the global bioeconomy: Enabling substitution by wood-based products and contributing to the Sustainable Development Goals. Rome, FAO on behalf of the Advisory Committee on Sustainable Forestbased Industries (ACSFI). https://doi.org/10.4060/cb7274en
Photo: ©srki66 / AdobeStock
Show