EFI experts providing media with their knowledge on forest fires
Latest news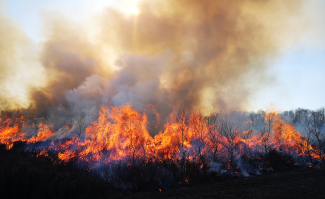 Forests and landscapes are burning across Europe. Portugal, Spain, France, Greece, the Czech Republic, and Germany have been coping with destructive fires – and the so-called "fire season" has just begun. Germany is experiencing an extreme year, with already more hectares burnt to this point than in the last years combined and affecting amongst other a forested national park popular with tourists. Hundreds of firefighters have battled the flames with help from reinforcements from neighboring countries through the activation of the European Union Civil Protection Mechanism.
When the first fires of the season got underway, they grabbed the attention of the media due to their extreme conditions during the recent record-breaking heatwave, and the amount of area burned which for the time of year was four times the 2006-2021 average. Dozens of media requests were directed to our EFI experts Alexander Held and Lindon Pronto, who for the last three weeks have been interviewed several times per day regarding the fires in Germany, but also in general to the global trends and development of fire management challenges.
With decades of experiences in the field and working at the science-policy-practitioner interface across the globe, the two experts could shed light on the many open questions and raise awareness for a more holistic fire management. Integrated fire management involves all affected stakeholders and is a landscape-level approach. This endeavor ranges from forest conversion towards closer to nature forestry, collaboration between for example civil protection authorities, foresters, farmers and nature conservation, to capacity building and training for first responders.
Through their experiences, Alex and Lindon have established an extensive of network of experts and stakeholders whereby they facilitate collaboration and capacity building to benefit the Waldbrand-Klima-Resilienz (WKR) Projekt (Fire-Climate-Resilience Project), located at EFI Bonn. The WKR project aims to make international standards of best practice more available and adapted for the German context. Additionally, the project outputs are maximized by the integrated approach to bring together forest managers, fire fighters and training academies, and many other stakeholders to better prepare Germany for current and future wildfire challenges.
While conducting the interviews from home or directly from the field, they can go beyond just commenting on the situation from afar but were able to inject various forms of assistance and decision-support ranging from supporting actual firefighting operations like in Brandenburg to remote support and analysis.
A full overview of the interviews can be found here and more information on the WKR project can be found here.

Image by Maria Schloßmacher
Show