EFIMED welcomes new senior staff
Latest news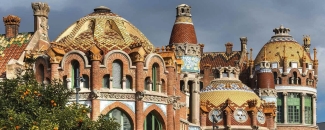 EFIMED warmly welcomes Michele Bozzano who has been appointed Head of EFI's Mediterranean Facility (EFIMED). Michele started his 5-year term on 1 February 2022. 
Michele has a PhD in forest landscape restoration and a Master's degree in Forestry. He has been coordinating the European Forest Genetic Resources Programme (EUFORGEN) since 2015. Michele has overseen the development of technical and scientific publications, strategies and reports, related to forests, forest resources and forestry at European and global levels and has been responsible for science-policy dialogue. Recently he was also the Project Coordinator of the Horizon 2020 project, GenRes Bridge.
We are also pleased to welcome a new Principal Scientist to the team: Magda Bou Dagher Kharrat will join the team on 1 March 2022.

Magda has a PhD in Plant genetics and has had a prestigious teaching career at the Saint Joseph University of Beirut. She has coordinated several international research projects, organized international events, and led a talented team of future conservationists. She also co-founded and managed the NGO Jouzour loubnan versed in forest ecosystem restoration. She speaks English, French and Arabic.
 
Meanwhile, EFIMED waves a fond farewell and extends heartfelt thanks to former unit head Inazio Martinez de Arano after eight years of inspirational leadership and dedicated service. Inazio is taking on a new challenge coordinating and developing EFI's Bioregions Facility and advancing open innovation activities, such as through the new H2020 FIRE-RES project, led by the Forest Science and Technology Centre of Catalonia (CTFC).

EFI's Mediterranean Facility promotes and conducts research, policy advice and networking on Mediterranean forests, forestry and forest products. The Facility is a cornerstone in Mediterranean forest-related networks, and offers a dynamic platform to exchange knowledge, identify and advocate for common priorities, and to generate new research and innovation partnerships. It gathers all relevant actors and initiatives active in landscape and community-based approaches to wildfire risk mitigation and the provision of ecosystem services. The Facility is also an intellectual leader in Mediterranean forest bioeconomy, including the socio-economic and policy underpinnings of innovative value chains based in wood, non-wood forest products and ecosystem services.
Show