Increased forest disturbances require better reporting and data collection
Latest news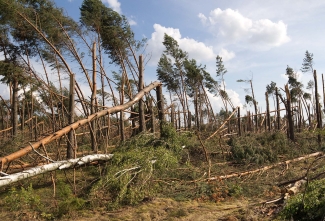 A new EFI Policy Brief looks at the key trends in forest disturbances since the 1950s and makes recommendations for better reporting and data collection.
Natural disturbances like wind, fires, pests and diseases are important drivers of forest ecosystem change. Canopy openings caused by disturbances promote tree regeneration and increase species diversity. However, disturbances can also cause ecosystem degradation, widespread tree mortality and damage large amounts of wood, potentially transforming forests from sinks to net carbon sources.
Recent research* shows that all major causes of natural disturbances in European forests have significantly increased since 1950. Large-scale disturbances may hamper the achievement of climate targets and strongly disrupt long-term forest planning, heavily affecting local economies. Another study** even predicts that fire size and severity will increase across all European biomes under future climate conditions.
However, reporting practices vary greatly between countries, and consistent data collection is lacking, especially for the reporting of smaller, dispersed damage.
The authors emphasise that:
A harmonized, consistent and near-real-time pan-European monitoring and reporting system of forest disturbances is needed, with improved data collection on small disturbance impacts.
A combination of ground-based observations and remote sensing is necessary for a consistent monitoring and reporting system.
Special efforts are required to better understand disturbance dynamics, especially the expected increase of drought and biotic agents, as well as disturbance interactions.
More information
Download the policy brief: https://doi.org/10.36333/pb4
Patacca, M., Lindner, M., Nabuurs, G.-J. and Schelhaas, M.-J. 2023. Significant increase in forest disturbances since 1950s. Policy Brief 4. European Forest Institute. https://doi.org/10.36333/pb4
The policy brief is based on work carried out in the I-Maestro and Resonate projects:
I-Maestro was funded through ForestValue Eranet Cofund (Horizon 2020 grant N° 773324) and national funding (FNR grant N° 2219NR189).
Resonate has received funding from the European Union's Horizon 2020 Research and Innovation Program under Grant Agreement 101000574
*Patacca, M., Lindner, M., Lucas-Borja, M.E., Cordonnier, T., Fidej, G., Gardiner, B., Hauf, Y., Jasinevičius, G., Labonne, S., Linkevičius, E., Mahnken, M., Milanovic, S., Nabuurs, G.-J., Nagel, T.A., Nikinmaa, L., Panyatov, M., Bercak, R., Seidl, R., Sever, M.Z.O., Socha, J., Thom, D., Vuletic, D., Zudin, S., Schelhaas, M.-J. (2023) Significant increase in natural disturbance impacts on European forests since 1950. Global Change Biology 29 (6), 1359-1376. https://doi.org/10.1111/gcb.16531
**Grünig, M., Seidl, R., Senf, C. (2023). Increasing aridity causes larger and more severe forest fires across Europe. Global Change Biology 29 (6): 1648-1659. https://doi.org/10.1111/gcb.16547.
Image: AdobeStock/schab
Show