Re-spiritualizing forests
Latest news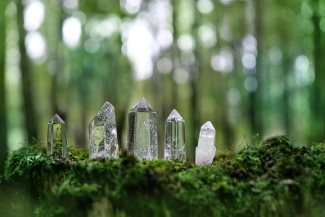 This post is based on a blog post by Jeanne Roux, a junior researcher at our Governance Programme. You can read the full post here.
Funeral forests, forest therapy, and forest bathing are trendy, especially in Europe. A group of inter-disciplinary experts including natural and social scientists from the SINCERE project wanted to explore the topic of evolving spiritual values of forests in Europe and Asia. Their study was recently published in Ecology & Society.
The spiritual interest in forests is not new at all. Humans have always had a close relationship with forests and have been intrigued by their magical nature. Societies depended on forests also for their spiritual development, e.g., sacred natural sites, some of which still exist. We also know that forests and trees are often central in myths and folklore, like in Brothers Grimm fairytales, or more recently, in movies such as Lord of the Rings and Avatar.
But why do we need to care about the spiritual values of forests? The authors believe "a better understanding of societies' ancient and present relationships with forests, the use and perceptions of forests, and the related spiritual significance could assist decision and policymaking and address trade-offs in the different application of forests ecosystem services."
Spiritual values are subjective and intangible, which makes them difficult to measure. Although religion is part of the spiritual equation, spirituality is not limited to religion. Also, there is not a clear division between forest spirituality and other forest ecosystem services (FES), such as recreational activities (hunting, collecting berries, etc) or even forest management activities. This might have led forest scientists, experts and policymakers to steer clear of this fuzzy concept.
Furthermore, forest spiritual values are relational values. They result from the exchange between ecosystems, humans and their activity (engagement). The environmental space, cultural practices and perceptions we have of forests continually enable and shape each other. To simplify: "Changing perceptions of nature are interconnected with changing attitudes towards forest management and policies, which again transform the landscape and consequently the perceptions of it".
This changing perspective of nature led the authors to formulate their Forest Spirituality hypothesis. The authors divided the continuous transition of forest spirituality into four stages:
"Nature is powerful", where forest spirituality is omnipresent.
"Taming of nature", where religion controls nature and spirituality.
"Rational management of nature", where science and technology are used to optimize nature's management for the benefit of society.
"Reconnecting with nature", where society reunites with nature for its non-material benefits.
The authors conclude that we need an improved understanding of how the significance society attaches to forests (in our case specifically spiritual values) could assist in landscape conservation and management practices and how it could improve decision and policymaking, also in addressing trade-offs. By acknowledging the spiritual importance people hold of forests, we could contribute to all aspects of sustainability. Not just the obvious social pillar, but also the economic (e.g. business innovations such as funeral forests) and the ecological pillars, for instance, the role spiritual values could play in forest conservation.
Full journal article:
Roux, J.-L., A. A. Konczal, A. Bernasconi, S. A. Bhagwat, R. De Vreese, I. Doimo, V. Marini Govigli, J. Kašpar, R. Kohsaka, D. Pettenella, T. Plieninger, Z. Shakeri, S. Shibata, K. Stara, T. Takahashi, M. Torralba, L. Tyrväinen, G. Weiss, and G. Winkel. 2022. Exploring evolving spiritual values of forests in Europe and Asia: a transition hypothesis toward re-spiritualizing forests. Ecology and Society 27(4):20. https://doi.org/10.5751/ES-13509-270420
Photo: Ju_see / AdobeStock
Show