Save The Date! – EFI Mediterranean Network Forum 2022
Latest news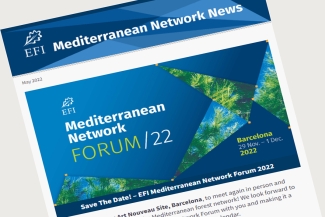 The May edition of the EFI Mediterranean Network News gives a preview of the event that EFI's Mediterranean Facility (EFIMED) will organise from 29 November to 1 December at the Sant Pau Art Nouveau Site in Barcelona, Spain. This will be a great opportunity to bring together the entire EFI Mediterranean network, launch the Mediterranean Research Agenda (MFRA) 2030 and host dynamic workshops and presentation sessions. More information and registration will follow soon.
Along with this special news, the bulletin is also full of other stories, publications and project updates. For example, we recommend the article by EFI colleague Theresa Frei entitled "Governing abandoned land: Storylines on natural forest regrowth in France and Spain" which looks at research she has led examining policy making related to natural forest regrowth in France and Spain.
As ever, this edition includes calls, job opportunities, upcoming events, and publications from all over the Mediterranean, as well as items of interest from elsewhere.
Subscribe to receive the bulletin every month in your inbox!
Contribute to the next issue!: Contact: Sarah Adams, Editor, EFI Mediterranean Facility, Barcelona.
Show