Science-Policy Impact Workshop in Brussels
Latest news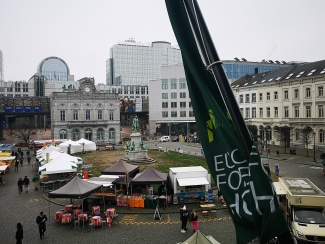 At the heart of the EU in Brussels, the Policy Support Facility gathered scientists from different fields and representatives of the Policy Support Trust Fund to discuss experiences, challenges and opportunities of science-policy impact. The Workshop took place on January 24-25 and was facilitated by EFI's Assistant Director Helga Pülzl.
Science and expertise have become increasingly politicized, the need for evidence-based policymaking has maybe never been as vital as today. After a stimulating opening statement of ThinkForest president Janez Potočnik, the participants discussed how to bridge the gap between science and policy to create a more informed, effective, and efficient decision-making process.
In breakout groups, as well as jointly, the participants reported and discussed their experiences as well as shared their scientific knowledge in the field and further reviewed ways to enhance the communication at the science-policy interface.
On Day 2, Doris Wydra, Coordinator of the Salzburg Centre of European Union Studies, took upon the discussion of the day before and provided an overview of potential approaches to address these challenges from research. The scientific approach was then again debated in relation to gaps, overlaps and personal experiences. The insights gained from this workshop are valuable for strengthening the work of the Policy Support Facility.
The EFI Policy Support Trust Fund has made it its mission to actively contribute to strengthening the evidence-based policy process. The workshop therefore gathered experts from both sides, of policymaking, and research. It builds bridges and fosters cooperation.
Show