BenchValue partners met in Limoges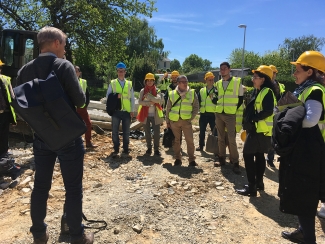 Europe aspires to create a thriving bioeconomy. For this, new innovative product value chains need to be developed, but an increased uptake of bio-based products is only possible if they are economic and more sustainable than competitive products. BenchValue project – whose last meeting took place on 13-15 May in Limoges, France- aims on developing a versatile benchmarking method to compare between renewable wood-based and non-renewable value chains and to quantify the sustainability impacts and climate change mitigation potential of substituting non-renewable with wood-based materials to support decision makers in policy and market environment.
During the meeting, partners of the project -labelled by Xylofutur competitiveness cluster- from France, Ireland, Lithuania and Austria met to exchange their knowledge and share their respective progress. The main work ongoing concerns the search for economic and social indicators and the construction of value chains in ToSIA. The addition of economic and social information brings an important dimension to the method, which does not exist in a conventional Life Cycle Analysis (LCA) approach. These sustainability criteria will be considered at each stage of the value chains of the wood and non-wood constructions, which are currently being modelled in ToSIA.
The 15th of May was dedicated to a conference with stakeholders at the University of Limoges (UNILIM). The university organized the event in collaboration with FCBA, coordinating the project. The participants included among others the Ministry of Ecological and Solidarity Transition, France Douglas, Xylofutur, the Municipality of Limoges and private companies. The importance of Douglas Fir in France has been linked to the mobilization of this resource for construction. The conference was also an opportunity to keep stakeholders aware of the regional and national policies for the development of the construction sector and future environmental regulations for buildings in 2020.
FCBA presented the French case study: a coffee roaster building with spruce structure owned by Café Michel in Pessac. The timber structure was designed and built by Arbonis in 2017 and the building has also been modelled with other construction materials: Douglas wood, concrete and steel. EFI is working with FCBA to complete economic and social indicators from two origins: collection from the value chain actors and national statistics.
At the end of the conference, a Ketso workshop was led by EFI, allowing every participant to discuss around the question: Douglas fir use in construction: an opportunity for Europe and the bioeconomy, a challenge for France.
Before the end of the project meeting, the participants visited two construction sites in which Douglas Fir has been used in practice. Hugues GIRAUDY presented a school extension and a wooden frame collective house building in Verneuil-sur-Vienne.
---
Save a date! Final stakeholder conference with project results on national case studies and recommendations: 23.10.2019 in Vienna!
Learn more about BenchValue here
Diana TUOMASJUKKA, Armand CLOPEAU
Photos provided by organizers