Drivers for Wood Construction Seminar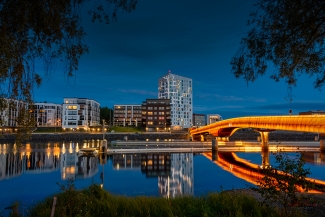 The second international Drivers for Wood Construction event including Rothoschool on tour will be held in Joensuu 21.-22.10.2020. The seminar will focus on the most recent challenges of the construction industry such as future building solutions, low carbon construction, technical and structural details of timber buildings, and finally, on the building codes in respect of fire and BIM.
EFI's Principal Scientist Diana Tuomasjukka will chair the Low Carbon Construction – From Urban Planning to Building Design session while Pekka Leskinen, Head of Bioeconomy Programme will join as speaker to discuss topics on Circular Bioeconomy, and Integrative planning concepts in city and landscape planning.
More info here
Drivers of Wood Construction 2020 is organized by the Karelia University of Applied Sciences, Natural Resources Institute Finland, University of Eastern Finland, European Forest Institute, Ministry of the Environment, Embassy of Sweden and RothoBlaas SRL.

Photo of Lighthouse Joensuu by Rami Saarikorpi