EFI celebrated International Day of Forests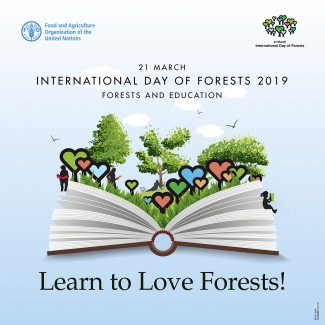 21 March is the International Day of Forests, and this year's theme focuses on Forests and Education.
To celebrate, EFI has had produced a T-shirt made from sustainable wood-based textile fibres, which are an environmentally friendly alternative to synthetic (petroleum-based) textile fibres like polyester. Synthetic textile fibres, which represent 63% of global textile production, result in high carbon emissions and other environmental problems like microplastics which put at risk the health of our oceans. New technologies developed in Europe now make it possible to produce renewable wood-based textile solutions that can replace synthetic fibres and contribute to a more sustainable world.
Marc Palahi, EFI Director said: I would like to wish you a very fruitful International Day of Forests. Nelson Mandela once said that "Education is the most powerful weapon which you can use to change the world". His words are today more relevant than ever, at a time when we need to transform our world at a scale and rate that we have never done before. Education is key to building a new economic paradigm and ensuring that our society prospers within our planetary boundaries in harmony with nature - forests and sustainable forestry provide education with good examples of this!
Read more on our new EFI blog!