NewGo!: online debates around the "Amazon fires"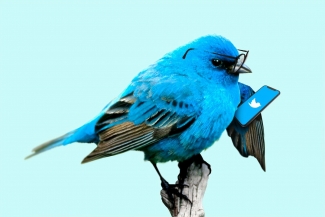 Technological revolution is transforming every aspect of human lives. As our physical and digital worlds coalesce with each other, the way we corroborate information and construct knowledge has evolved over time. While social media offer free platforms to create and share information, its openness has also changed the possibilities to shape and influence debates in the online space.
While more attention is paid to the importance of public engagement with science, it is essential to explore how the public engagement works in online space. This is particularly the case for complex topics like forest governance where various issues and interests emerge at different levels of our social, economic and natural systems.
Under NewGo!, a start-up project for the EFI's Governance programme, Out of the Flames makes the very first attempt to reveal "what's behind the web" in the context of forest governance. Driven by a case study on the 2019 Amazon rainforest fires, one of the most popular news items in the recent past, the project will reconstruct how the event has unfolded through a series of analyses using online data from digital platforms including Twitter, Facebook, Google, Instagram, and Youtube. In cooperation with the Public Data Lab, an interdisciplinary network of leading researchers who are specialised in digital humanities, network science and design studies, the project will identify trends, patterns and "publics" to understand how forest governance is addressed and engaged in the digital world.
Out of the Flames will focus on three distinct areas for analysis, namely:
Twitter analysis, using the English language data collected via the Digital Methods Initiative Twitter Capture and Analysis Toolset (TCAT)
Cross-platform image analysis, using the primary image data from Twitter, Facebook, Google, Instagram, and YouTube
Media analysis, based on a corpus of articles compiled through a combination of social media engagement metrics and topical focus.
Based on the analysis results, the project will facilitate evidence-based dialogue with and among researchers, journalists, policy-makers and other associated experts for further reflection and insights sharing.
As the project deliverables, it will offer:
an online report with a collection of findings from the Amazon Fires case study including the Twitter, cross-platform images, and media analysis results as well as the insights and comments from the experts (June 2021)
an online resource which highlights how "facts" and "claims" travel and how different publics interact/engage with them, based on the case study of the Amazon Fires (June 2021)
a dedicated webpage on the Lookout Station publishing the key outcomes (June 2021)
a dedicated interactive website, hosting all the deliverables (October 2021)