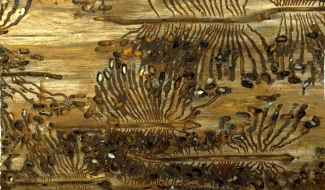 Sound Reporting Co-Lab is a 6-month media support programme that helps journalists from Europe and US produce sound-based stories around climate change impacts on forests, biodiversity and local communities.
A total of 10 journalists and producers working for 6 media houses are invited to a in-field bootcamp on 11-12 July 2019 in Poland. The bootcamp focuses on the bark beetle spread that is transforming not only our ecological systems, but also social and industrial systems in the Northern hemisphere. Putting a spotlight on the bark beetle infestation as a case study, the group will not only decode the complex scientific insights and evidences by meeting and speaking to the scientists with opposing points of view, but also master the science-based sound storytelling techniques. The group will meet in Bialowieza forest, one of the disputed forests in Europe, to dig deeper into the intersection of climate change impacts and bark beetles infestation through the diverse lenses of scientific discplines such as entomology, ornithology, ecology, forest science, and anthropology.
Read more about the programme in Cornell Chronicle or at the Lookout Station website.
For more information about bark beetles, read EFI's publication "Living with bark beetles: impacts, outlook and management options" here.
Photo: Galleries of the spruce bark beetle Ips typographus with larvae, by Roman Modlinger.