SUFOGIS training on geo-information technologies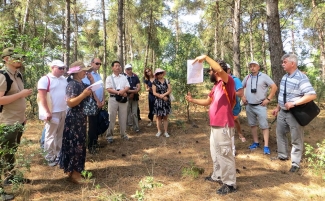 The SUFOGIS project, implemented by the grant from the European Erasmus + program, brings together scientists from Europe, Russia and China to discuss and solve the current problems of climate change and forest protection.
The project is coordinated by the Aristotle University of Thessaloniki in Greece, which also hosted the recent summer school, where leading experts in the field of geo-information technologies and forestry shared their knowledge with students and staff from Russian and Chinese academic institutions and universities. The topics included the role of forests and forestry in the climate policy of the European Union and Russia as well as climate diplomacy and EU ecological policy. During hand-on sessions, advanced methods of analysing satellite images of forest cover and the use of remote sensing data in research and professional work of foresters was taught. Also, the main areas of application of geo-information technologies in environmental monitoring – in forestry, including forest fire preventing, as well as hydrography, meteorology, urban planning and land use were demonstrated. The participants were also able to visit the Mount Olympus National Park and Taxiarchis Forest of Aristotle University during field trips.
More about the project: https://sufogis.volgatech.net/
SUFOGIS - GIS and Remote Sensing for Sustainable Forestry and Ecology is co-funded by the Erasmus + programme of the European Union.