Bridging the plantation divide
Latest news
"Trees are not just one of the approaches to tackling climate change, but by far the most important one", emphasised the Lord Provost of Aberdeen, opening EFI's Scientific Seminar on 19 September, which focused on plantation forests.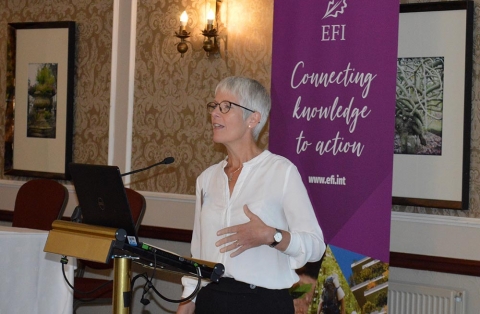 Over 120 participants heard that there are more and more planted forests in Europe – this is both a trend and a need – with the drivers including climate change mitigation and bioeconomy demand. Plantation forestry already plays a significant role in meeting environmental, economic and climate policies, and going forward investment, good practices and sharing of knowledge could enhance these contributions further.
One challenge is polarisation of public opinion around plantation topics and afforestation. Keynote speaker Jo O'Hara, CEO of Scottish Forestry shared some of the lessons learned from creating Scotland's new Forestry Strategy for 2019-2029. Their vision for 2070 includes more forests and woodlands, sustainably managed and better integrated with other land uses. "You cannot succeed without taking the public and politicians with you", she said. You have to know your audience, and understand the different audiences which you have to engage with. Look also at the very local, as well as regional and national. Spend the most time with your detractors – you have to listen to them and take their advice on board.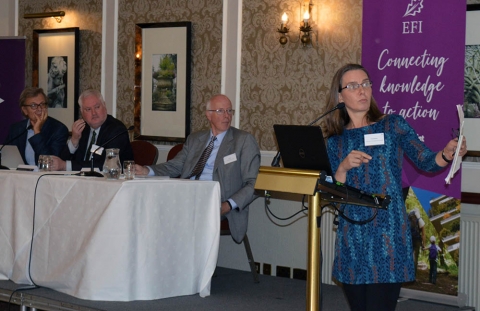 To bridge polarisation, we need to explore creative, non-binary solutions based on science, which feed into relevant policies and translate into practice.
Anna Lawrence from University of the Highlands and Islands pointed out some of the solutions which lie in between – for example mixed species forestry, agroforestry, coppicing, trials of alternative conifers and continuous cover forestry.
But ultimately, forestry is about people, and the challenges facing the foresters of tomorrow are ever more complex. Lively discussions also focused on the need to get more women into forestry, and to involve more young people – capacity building, skills and education are vitally important.​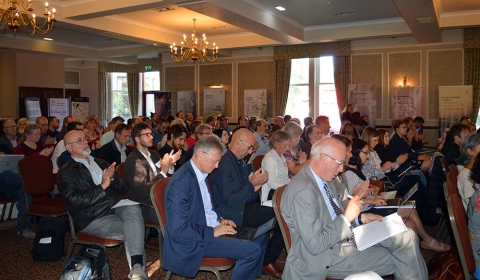 More information
"Plantation forests to native forests: delivering multiple ecosystem benefits in a changing climate" took place on 19 September in Aberdeen.
See the full programme
Download the presentations from the seminar
Read more on the EFI blog: Plantations' role in the forestry palette
Photos: Adam Walker, The James Hutton Institute
Show