EFI Mediterranean Network News: key publications and resources go global this summer!
Latest news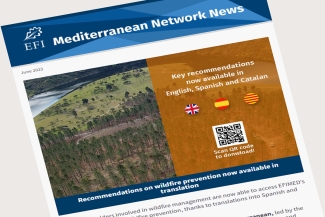 The European Forest Institute warmly welcomes the summer with a newsletter full of news from the Mediterranean network and beyond!
In this June edition, we would like to point out that the Key recommendations on wildfire prevention in the Mediterranean publication is now available in three languages: English, Catalan, and Spanish. Along the same lines, the EU-funded project HoliSoils, focused on forest soil management for climate change mitigation, has centred all its efforts in the last month on becoming more global, translating its first policy brief into 10 languages!
What else has happened this last month in the Mediterranean and what's to come? Have a look at the latest on the new regenerative cotton project, coordinated by EFI in collaboration with the Armani Group, which aims to pave a sustainable and innovative path for fashion in Italy. Also, the European project needs you to share your opinion and needs on a new fire education tool they are developing!
As ever, this edition includes calls, upcoming events, and publications from all over the Mediterranean, as well as items of interest from elsewhere.
Subscribe to receive the bulletin every month in your inbox!
Contribute to the next issue! Contact: Sarah Adams, Editor, EFI Mediterranean Facility, Barcelona.
Show