Research Agenda – Biocities of the future
Latest news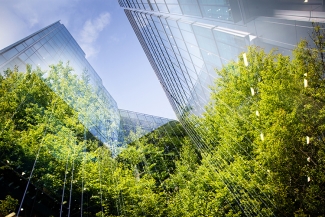 In 2022, EFI launched the Biocities Facility to better connect science-based knowledge to policy and practice, and to unlock the potential of forest-based solutions in rethinking and co-creating sustainable, healthy and resilient cities, while leading the decarbonization of our society.
Recipes for Biocities (ReBio) project was funded to develop a Biocities Research Agenda, which has identified knowledge gaps and specific topics and activities that could be addressed by the new Facility.
The overall objective of the Research Agenda is to contribute towards transforming existing cities to Biocities and provide a framework for new urban developments.
Five key topic areas were identified as a framework for elaboration of a research agenda to facilitate the transition to Biocities: (1) circular bioeconomy, (2) climate resilience, (3) governance, (4) social and human environment, and (5) biodiversity. Various challenges arise from different perspectives in these topic areas, such as life-cycle management, cultural change, prioritisation of sustainable approaches, urban carbon storage, infrastructural adaptation, bioresilience, participation, cross-sectoral planning, systemic integration of health and wellbeing, and spatial sustainability.
The implementation of the Research Agenda will require five pathways: (i) an international coordinated research effort, (ii) interdisciplinary networks, (iii) integration of other initiatives, (iv) conceptual capacity building and (v) support for emerging disciplines. The implementation of the Research Agenda is expected to contribute to the Sustainable Development Goals in an urban context, as well as to support the Green Deal Strategy of the European Commission and the promotion of One Health.
Read more about the ReBio project at https://efi.int/rebio
Download the Biocities Research Agenda: https://doi.org/10.36333/rs4
More information: Dr. Jerylee Wilkes-Allemann at jerylee.wilkes(at)bfh.ch
Photo: Melinda Nagy / AdobeStock
Show