Stay up to date over the summer with EFI's July Mediterranean newsletter!
Latest news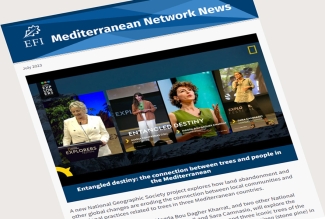 As the EFIMED team goes on summer holidays in August, we didn't want to leave without bringing you the last EFI Mediterranean Network news of the summer season!
In this July issue, you will be introduced to the new National Geographic Society project that explores how land abandonment and other global changes are eroding the connection between local communities and traditional practices related to trees in three Mediterranean countries. Our Principal Scientist Magda Bou Dagher Kharrat is involved in this initiative combining multi-disciplinary research and storytelling.
But there is much more in this edition, don't miss the new collaboration between the EU-funded ResAlliance project, the EFI Resilience Programme blog and EFIMED, to increase the reach of our Mediterranean forest resilience-related articles. And speaking of initiatives and collaborations... we encourage you to support the Declaration promoted by the Pau Costa Foundation on the management of large fires in Spain.
As ever, this edition includes calls, upcoming events, and publications from all over the Mediterranean, as well as items of interest from elsewhere.
We wish you happy summer holidays! See you back in September with fully charged batteries!
Subscribe to receive the bulletin every month in your inbox!
Contribute to the next issue! Contact: Sarah Adams, Editor, EFI Mediterranean Facility, Barcelona.
Show