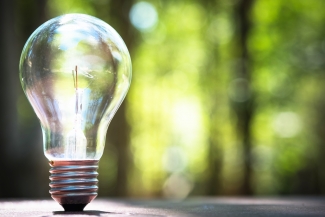 Look behind the scenes – meet some of the experts that make EFI work!
Hello! I am Cleo Orfanidou, or Timokleia Orfanidou if you prefer. I am originally from the town of Kavala, between Eastern Macedonia and Thrace, Greece.
I am currently working as a junior researcher in the Bioeconomy Programme at EFI. More precisely, I am a Civil Engineer with an MSc in Architectural Engineering from the Technical University of Denmark. I followed this route, as I was lucky enough to be an Erasmus-funded exchange student in Denmark back in 2012 when I was 19 years old. Then I was intrigued by the Scandinavian way of life and the sustainable lifestyle of the Nordic people, and I decided to go back for my MSc studies in 2016. I selected this photo as it was the first time I visited Copenhagen in 2012 and fell for it. Studying in Denmark, the route of having a professional career in topics related to sustainability is almost inevitable since it is a frontrunner in sustainable development.
In 2018, I joined EFI to work in the BenchValue project, then I took part in the SMARTA wood project and recently joined the Secretariat team of the BioRegions. I am a member of the Sustainable Bioeconomy team located in Joensuu and I work in the fields of resource-efficient and sustainable buildings and products, LCA and SIA, and circular (bio)economy. In the last years, my interest lies in the climate change mitigation potential of wood use in construction, and I hope to explore it further.
The chestnut tree is my favorite as it grows everywhere in Greece. Furthermore, it reminds me of the Greek winters where roasted chestnuts on the charcoals sold to passers-by from chestnut-sellers with portable braziers. That feeling is almost as cozy as the Finnish sauna experience!
You can find more details about me on Linkedin, and feel free to follow me on Twitter.