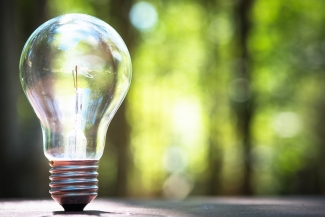 Look behind the scenes – meet some of the experts that make EFI work!
I am Venla Wallius, a 25-year-old junior researcher at EFI's Bioeconomy unit. I have been living in North Karelia for most of my life, but I had a six-year detour in Jyväskylä, Central Finland, studying corporate environmental management (M.Sc.) as well as environmental science and technology (nearly finished M.Phil.). After this summer, I'll continue my studies and start my PhD process in the Corporate Environmental Management program at the University of Jyväskylä. My PhD will focus on stakeholder perceptions of wood-based products in bioeconomy transition. 
I came to EFI in December 2018 to write my first Master's Thesis and I have been a junior researcher since spring 2019. Currently, I am working on issues related to Koli Forum, a discussion platform with themes related to bioeconomy. I will also be taking care of the practicalities and organization of Koli Forum events together with the rest of the Secretariat and Board. I am also active in the KIBIO project exploring the possibilities of developing forest bioeconomy in North Karelia and China. Besides these two, I have a smaller role in a few projects such as FutureForest2040 and TECH4EFFECT. I am interested in a variety of issues related to sustainable forest bioeconomy and keen on learning more, but my special interests include consumer research, bioeconomy markets, and impact assessment. 
Outside work, I spend time with my two dogs – typically out in the nature or doing a variety of dog sports. My favorite tree must be aspen (Populus tremula), as it is an important species for boreal forest biodiversity, but the trees are also absolutely beautiful especially in the autumn (which is my favorite season) when their leaves turn to vibrant yellow.