Sheep as landscape and forest managers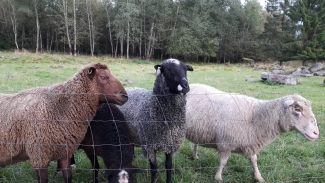 During a recent workshop organised in the context of AFINET-project, members of the Finnish Agroforestry Innovation Network got to see first-hand how landscape and forest management can be combined with sheep herding.
The workshop was hosted by Vaahermäki sheep farm in eastern Finland. The farm has considerable forest areas and keeps Finnsheep (suomenlammas) which graze freely in the forests throughout the whole summer from May until September. Some of the sheep herds are grazing on four different islands in the nearby Linnansaari National Park where they manage the traditional rural landscapes of Lake Saimaa islands.
| | |
| --- | --- |
| RAIN members standing on a regenerating clearcut site. Even though there is a lot of woody debris, sheep do not have a problem moving around in this area. | Mixed birch forest grazed by sheep. |
| Regenerating forest stand a couple of years after clear cutting. Sheep mainly browse the deciduous trees bringing a competitive advantage for pine and spruce regeneration. The ground layer may be more grass-dominated compared to other regenerating forest stands as an effect of grazing. | Young spruce stand grazed by sheep. Sheep do not browse spruce. Sheep effectively keep the ground layer vegetation and naturally regenerating deciduous trees low, which saves costs for forest tending. |
| In the past, these forests were more open wood pastures and some old farm buildings still remained. Some of the log cabins are currently restored, and hopefully in the near future these will again have a function, for example for people wishing to spend a "herder holiday" in the Finnish countryside. |   |
The forests closer to the farm are partly under commercial forest management and party managed as traditional rural biotopes. The forests surrounding the farm consist of a mosaic of mixed spruce and birch forests of different age classes. In landscape management, sheep are excellent in keeping the landscape open for preserving its rural character. In addition, sheep are natural-born forest managers as they like eating willow, rowan, aspen and alder, i.e. tree species which are normally removed during tending and thinning of forest stands. They leave the commercially more valuable forestry trees, such as pine, spruce and birch, largely untouched. Because of the sheep's feeding preferences, it has been possible to apply this grazing system even in very young regenerating forest stands. According to the Vaahermäki farm owner, he saves money on forest tending and thinning operations and even in this year's extremely dry summer in Finland, he didn't need to buy any additional food for the sheep, as there was plentiful natural forage available. Because of the dry summer, the grazing season will probably end already in mid-September, which is two weeks earlier than in previous years. Nevertheless, the system seems quite resilient against the impacts of climate change and the farmer didn't experience serious problems because of the rather exceptional summer drought in Finland.
During the field trip, some of the most interesting innovations identified in the AFINET project with the help of stakeholders across Europe were evaluated. The project runs until the end of 2019 and one of the major outcomes will be information for farmers (factsheets, briefing notes, videos, seminars, lectures, tutorials)  on how to take these innovations into practice.
More info: Michael den Herder, michael.denherder @ efi.int