Why should we all learn to think like foresters: an interview with Lisa Hafer, WaldHaus Freiburg, on the role of forest education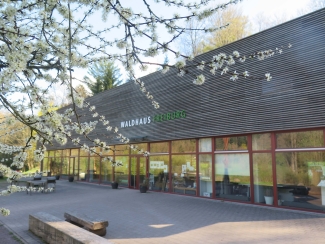 Forestry isn't a topic usually taught in schools, and despite its relevance to climate change mitigation and adaptation, the dilemmas of a forester might sometimes seem too intricate and technical to explain to a general audience. In Germany, however, since Education for Sustainable Development started being officially incorporated into school curricula in 2016, teachers received an incentive to bring forest-related topics into the classroom and take students on excursions to the forest.
To enable deeper discussions on the role of forests in climate protection, the forest education centre Stiftung WaldHaus Freiburg, in Germany's Black Forest, installed a "junior" marteloscope site in cooperation with the European Forest Institute and the Integrate Network near its building in the city of Freiburg, where teachers and students can now see real-life examples of the economic and ecological values of trees. Almost 60 trees from eight species were mapped on the site, and a tablet app allows the visualisation and comparison of different attributes of each tree, giving visitors a concrete idea of how forestry decisions are made, and priorities established in forest management.
According to Lisa Hafer, leader of the project "WaldKlimaRaum" at the WaldHaus Freiburg, the marteloscope not only brings the world of foresters much closer to schoolchildren, but also has the potential to change their relationship with the concept of sustainability. In the interview below, she explains how learning about forests can impact the lifestyles and consumption patterns of students and their families, shares tips on how to get them interested in forestry, and reveals why all those fighting for the climate should also be passionate about forest education.
EFI: Can you tell us more about the activities you conduct at WaldHaus Freiburg and how the new marteloscope complements your current program?
Lisa Hafer (LH): We have different forest education projects. One of them, the WaldKlimaRaum, is focused on climate change and climate action. Within this programme, we want to teach about the different functions of forests, including the ecological and economic functions, for climate protection as a carbon sink, and for recreation, which is strongly at the forefront here in Freiburg. With help of the marteloscope, it is possible to illustrate dilemma situations between these different forest functions very clearly. I also want to use it to show people the potential our forests have to absorb carbon when new trees grow, and to substitute concrete and steel as a construction material by using wood products. It is very useful to teach young people about sustainable forest management as well.
EFI: What target audiences do you want to attract?
LH: The program that I have created for the "WaldKlimaRaum" project involves several activities for schoolchildren, starting from 6th-grade students. In addition, there will also be capacity building activities for teachers and those receiving training to become teachers, because climate action and education for sustainable development are part of the curriculum in Germany since 2016. However, this is rarely put into practice as current teachers did not receive adequate training to teach such topics. We are planning to take them to the marteloscope, as well as other groups of adults and families who are interested in the work of forest managers and want to better understand societal concerns around forests.
EFI: Marteloscopes are normally used to train forest/nature conservation managers and forest owners – how can you adapt tours and activities to make them understandable, engaging, and interesting for children?
LH: In our school programs we already measured trees before, and I always put my focus on climate change. We calculate how much carbon is stored in the forest and compare it to how much carbon we emit per person. Then we reflect on the importance of protecting the forest. Now with the marteloscope, we will be able to provide better examples for discussion and present these questions in a more vivid, observable way. There is an important oak tree here, with very high wood quality, but also many microhabitats and a great value for nature conservation. We use it to show students that there is no right or wrong, that each decision is a unique case and depends on what is considered more important for a certain forest stand. Forest managers need to decide for each tree which functions should have priority. Ultimately it is a good opportunity for discussion: what would the students do if they were managing the forest?
You can draw comparisons with their daily lives too. For instance, I tell them that you need a middle-old beech to compensate for the emissions of the production of 20 t-shirts. Of course this is a generalisation, but it works as an illustrative example. You can also ask in parallel how many t-shirts each student buys per year, and whether we should keep consuming so much or relieve the climate a little bit.
EFI: How can the experience lived at the marteloscope site impact the lives of students?
LH: This way, I think that the children can make their actions more in harmony or in connection with the forest. It is very important that we also educate and create advocates for the forest. And it is a good starting point – who knows, maybe they will also become foresters one day.
The public discourse around sustainability highlights mostly the things that are going wrong. To come here and learn that sustainability has already been part of the management of Germany's forests for the last 300 years is a good message for the students, even though the climate aspect has not been present for that long. And again, if we speak about consumption, you could look at how much carbon you emit by watching two hours of Netflix and calculate how many trees and their growth are needed to compensate for these two hours. This shows the kids that the way they live makes a difference in protecting the environment. And it reminds them of the responsibility they have.
EFI: Why should forest education be part of school curricula? What makes you passionate about it?
LH: I work in this job because I love forests and, in my opinion, forests and their different functions are very important to our lives. Through the forest, you can explain a lot. Sustainable education has many criteria, as you teach skills and competencies. For example, it is important that students can understand different perspectives. You have forests in different places of the world, so you can almost make a world trip with the students using the same example while explaining connections from the local to the global level. There are also temporal dimensions: I normally describe to students how stone and brown coal have developed and how forests played their role in it. There will also be forests in the future, but it is interesting to think about how they will adapt to climate change. It is part of education for sustainable development that you also learn to consider the long-term perspective, and for this, trees are the perfect example. You can also teach politics in the forest and make planning games with scenarios involving forest owners and forests that need to be managed collectively.
Integrating the marteloscope into the programs of the WaldKlimaRaum helps a lot because we use data collected by scientists. The students don't need to believe blindly in my words, but they can see it for themselves in black and white. A new module of the marteloscope app to be launched during the year will also show correlations between the volume of the trees and CO2 data. The app runs on tablets, which can be used as a contemporary learning method that corresponds more to the reality of the students. It is much more interesting than if I used paper and makes it easier to grab the attention and interest of students.
I am passionate about forest education because I am convinced that it is very meaningful to bring people in connection with nature and deepen it. It is the basis for any climate action.
EFI: When is the inauguration of the marteloscope and what activities are planned in the future?
LH: I am leading the course of forest education at the Albert Ludwigs University of Freiburg in the summer semester, and this is when I am planning an inauguration with the students. In July, different classes will take part in the new programs of the WaldKlimaRaum project, which might already be the first teenagers to try out the marteloscope.
Originally published on the Resilience Blog by Priscila Jordao.