II Chopo Symposium on poplar industry: present and future uses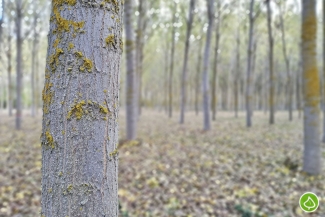 The II Chopo Symposium on poplar industry was held on the 17-19 October at the Science Museum of Valladolid, organised by the Junta de Castilla y León and with the active participation of the EFI Planted Forest Facility. Local organizers of the symposium had an interest in positioning Castilla y Leon, Spain, as a reference for the poplar industry, where poplar plantations occupy 65% of the surface area.
The conference was promoted and co-financed by the General Directorate for Natural Environment of the Ministry of Environment and Development of Castilla y León (Program for the Mobilization of Forest Resources, 2014- 2022) with the participation of the Ministry of Agriculture and Fisheries, Food and Environment (MAPAMA), the Diputación de Valladolid, the Forestry Association of Castilla y León (FAFCyLE), the Spanish Association of Manufacturers of Plywood Board (AEFCON), the Spanish Society of Forest Sciences (SECF), the Public Infrastructure and Environment Society of Castilla y León (SOMACyL), and the Center for Services, Forestry Promotion and Industry of Castilla y León (Cesefor). National and international organisations -such as EFI- were also actively involved in the conference.
A hundred and eighty professionals (scientists, administrations, poplar-growers, and companies) attended the symposium which lasted three days. There were forty Scientific communications and lectures altogether which focused on the "Poplar sector and bioeconomy", "Improvement of services and environmental functions of plantations and riparian forests", "Use of poplar wood: present and future" and "Policies, sustainable management and productivity". The presentations, gave a global vision of the poplar industry – especially its production and commercial uses- at national, regional and international levels.
Mr. Juan Carlos Suárez-Quiñones, Minister of Development and Environment of the Junta de Castilla y León, Mr José Manuel Jaquotot Sáenz de Miera, Deputy Director General of the Forestry Department (Ministry of Agriculture, Fisheries and Food), opened the conference. Walter Kollert, a prominent researcher, gave a keynote lecture on "Poplar industry in the European Union and in Spain". Kollert stated that poplar occupies about 911,000 hectares in Europe (2/3 as plantations and 1/3 as natural forests).
The field trip was done on the second day of the symposium. The aim was to show the experimental sites that had been described at the technical sessions. People visited a poplar plant production in Vivero de Villafer as an example of plantation management, and an experimental plot of poplar clones.
A social awareness activity was also held for the general public. Sixth- grade scholars from the Corazonistas de Valladolid school learnt about wood uses in common objects and then built nest boxes with poplar wood courtesy of Garnica Plywood, one of the sponsors of the meeting.
The symposium presentations, minutes and the multimedia content  (image galleries and videos of the work sessions) are available at www.simposiodelchopo.es