INTEGRAL: a unique example of future-orientated risk integration in forest of the Landes region

The European project, INTEGRAL, was a unique chance to illustrate and quantify the impact of decisions made by policymakers and stakeholders in the context of planted forest restoration in the aftermath of the 2009 wind storm.
Scenarios of socio-economic evolution within the forest landscape of the Landes region in South-West France were created with the support of colleagues from IRSTEA in Cestas and in partnership with regional stakeholders.
​
Using tools provided by modelers in IRSTEA and INRA, it was possible to simulate the evolution of thousands of stands on the basis of anonymous land registry information provided by PIGMA and GIP ATEGERI on a landscape scale of 10,000 ha.
By applying the unit's knowledge of empirical and scientific risks it was possible to produce an index of the evolution of synthetic risks and other socio-economic indicators in order to compare the results of the different scenarios.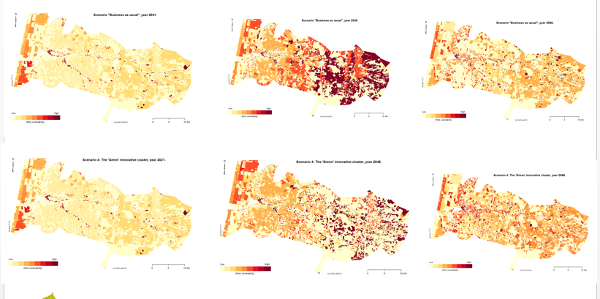 ​
Map of the evolution of fire risk in the Landes region under various scenarios
This work is considered as a methodological reference of interest to other organisations like AFORCE for replicating the process in other regions.
A review of the different methods used in various case studies in INTRGRAL has shown that the available tools and methods in France perform particularly well and landscape indicators have been developed. It concludes, however, that there is a need to develop tools that are able to cope with climate change.
Written by Christophe Orazio (EFI) and edited by Stephanie Hayes (Hayes4Com)