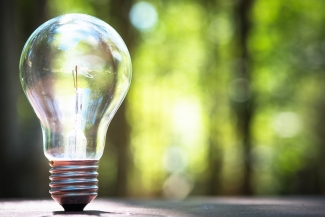 Look behind the scenes – meet some of the experts that make EFI work!
My name is Dr. Nataša Lovrić (former Lozanovska) and I am currently working at the EFI Headquarters in Joensuu, Finland as a Policy Support Officer. I have more than 13 years of research, project management and coordination experience and have so far worked in over 20 projects since 2007, when I first joined EFI. Before moving to Joensuu in 2014, I was part of the research team in EFI's Regional Office in Zagreb, Croatia. I hold a PhD degree in forest and environmental governance and policy, focusing on a stakeholder participation from Albert Ludwig University in Freiburg, Germany. I also have a Forest Engineering degree (M.Sc. equivalent) specialising in nature conservation and land use management, as well as Master of Forestry Sciences degree specialising in forest economics and policy, both from the Faculty of Forestry, Ss. Cyril and Methodius University, Skopje, N. Macedonia. Last year, on their 70th anniversary, I was given the best student and most accomplished alumni honour, and was invited to present my work in the University Rectorate.
Currently at EFI, I am coordinating the European Forest Extension Network – FOREXT, and I am also the Project Manager of a H2020 GenRes Bridge Project "Joining forces for genetic resources and biodiversity management".  My previous research experience is in the fields of bioeconomy, foresight and policy support, forest policy, agroforestry, environmental governance, and private forest ownership. Some of my previous research projects include: AGFORWARD, FORBIO, LignoSilva, SIMWOOD, CCA of F-BI and SUMFOREST. As part of my PhD studies, I discovered and published a theory on stakeholder participation in environmental governance issues. I have also published more than 20 peer reviewed journals, books and chapters. Since 2016, I have been an active editor in 3 different peer reviewed journals and since 2018 I have been also working as an expert for the various programmes in the European Commission.
I have always loved the forest and the nature, and now I am lucky enough to live right next to one. I enjoy it every day by taking long walks with my family and two pets (a cat and a dog). My favourite trees are Quercus trojana (Macedonian oak) and Pinus peuce (Macedonian pine), because they originate from and are named after my native country North Macedonia. The Macedonian oak is semi-evergreen tree, and the Macedonian Pine is conifer tree, and they are both famous for their uniqueness, resilience and adaptation potential.