New study tackles key questions on forests in the EU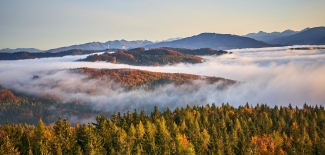 EU forests provide many products and services to society, benefiting citizens in numerous different ways. The expectations for forests are high – and they are subject to many and varied demands, not all of them necessarily compatible.
Sound decision-making needs a solid and holistic understanding of the different roles forests play, the complex, diverse and long-term ecological processes which take place and the stakeholders directly or indirectly involved.
EFI's new Knowledge to Action report aims to tackle the knowledge gap, compiling key research findings to answer 12 important questions about forests in the EU. 
Harnessing its ongoing monitoring of recent EU policy processes, EFI selected the following areas in particular: bioeconomy, civil protection, climate change mitigation and adaptation, forestry, impact on global forests, nature conservation, public health and regional development.
The questions include:
How did EU forests develop?
Who owns the forests?
What do people think about forests?
How has climate change affected forests?
How does forest management affect biodiversity?
How do forests improve health and wellbeing?
How do forests contribute to prosperity?
Twenty-eight researchers from EFI and its network have contributed to the publication, which is available in two formats. A short version is freely downloadable as a pdf, while our Forest Questions webpages contain more detailed information and references.
More information
Mauser, H (ed). 2021. Key questions on forests in the EU. Knowledge to Action 4, European Forest Institute. https://doi.org/10.36333/k2a04
Photo: Pexels/Florian Haider